How to Make a Dog Collar?
Dog collars have become a necessary accessory item for our canine. It is not only used as a means to train dog obedience, but also is used to attach an identification tag on them. The identification could include your furry buddy's name and the pet owner's contact number. In case your dog has fled away from home and gets lost on his way back home, then the people around him could get in touch with you by the number provided.
As we all know, there are a variety of dog collars available in the market to choose from for our beloved pets. But, what if one does not want to purchase and instead wants to make one by themselves. One can make unique dog collars at home. It is not that much of a tough task to do, but yes, it is a bit time-consuming. So, one can take this up as an activity for their weekends.
Why should one engage in an elaborate process of making a dog collar? When, one could simply purchase it? Well, there are some reasons for you to do this. First, even though the dog collars purchased online to guarantee the high durability of the product, they may wear off sooner than expected. Thus, if you make a collar on your own, you will ensure the quality of the material is good. Also, some dog collars have a low-quality outer covering that could lead to rashes and itching on many sensitive dogs. But, when you will make one, you could opt for fabrics that are gentle on a dog's skin such as cotton or silk. The main advantage that a pet owner will have when he decides to make a collar for his dog is that he will be able to save some money. We know dog collars are expensive, so it will not only help us in saving, but will also give us the opportunity to customize a collar for our dogs.
Materials Required
A regular collar comparatively can easily be made at home. All you would need are some materials to start your do-it-yourself activity. If you want to make your dog look funky or cute, you could design it that way by using patterned fabric or cartooned printed cloth. So, making a collar on your own gives you the freedom to use your creativity and use it to the best to make a comfortable dog collar.
Now, let's get the working done. It makes it easier if you have all your items gathered in one spot.
So, the items or things you will need to make a dog collar are as follows:
Measuring tape
Scissors
Nylon webbing
A cotton fabric, either plain or printed, depends on you.
A matching color thread, if possible
A side buckle snap or a tri-glide slider
A D-ring
A sewing machine
A sturdy, big needle if one has no access to a sewing machine
Process of Making Dog Collar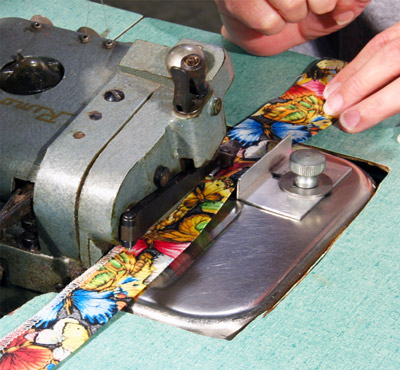 And Voila! Your dog collar is ready.
Now, after finishing your creation, try it on canine and see if it fits perfectly.
Necessary Items for Making Dog Collar
If one has decided to make a dog collar from scratch and are later worried about where they will get all the necessary items from, we advise you to chill back. These items are easily available at hardware stores, or any Multipurpose shops. If one cannot find these items in their neighborhood, then online shopping is always an option. Since these items are not that expensive, you can order them without hesitation.
Wait! There are certain things one should remember while making a collar at home. We know it is a chance for you to bring out your creative ideas, but one must not forget that a dog's comfort is the most important thing. So, avoid using those metal studs and fancy dangling kinds of stuff that may cause harm to the pets.
Also, make a collar according to your dog. By this, we mean if you have one of those bulky dogs, select a fabric with more strength. Comparatively, a small breed dog may not need that much of a firm collar.
Conclusion
Those who have no experience of how to use a sewing machine should be extra careful while using one. And, those using a needle to stitch should also be careful so that they do not prick their fingers.
Keeping all the main points and cautions in mind, one is definitely ready to sew a collar for their dog. This effort of ours will be our affection towards them. And, they too will feel the love we have put into it.